Government IT Veteran Mike Byrd Joins Rancher Government Solutions as VP of Ecosystems and Partner Management
August 31, 2023
In its continuing effort to recruit and retain the best federal tech industry talent, Rancher Government Solutions (RGS), the leader in open source, cloud native, Kubernetes management software, announced today that IT veteran Mike Byrd has been named Vice President of Ecosystems and Partner Management.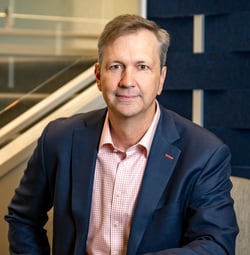 The addition of Byrd to the senior management team brings his 28 years of government IT thought leadership and experience at both Red Hat and Sun Microsystems to RGS, just as the acceleration of containerization and the adoption of Kubernetes in the federal market has put RGS at the vanguard of application modernization, cloud native and edge technology.
"The timing could not be better for Mike to join the RGS team and help further accelerate our growth in the federal market," Said Paul Smith, CEO at RGS. "Mike is very well known in both the National Commercial and Government Partner, Distribution and SI space. He has run many successful sales organizations for years and has always focused on his team's personal and professional career growth as well as the success and satisfaction of his partners and their customers."
Most recently Byrd was Red Hat's VP of North American Ecosystem Partner Management and served as VP of US Public Sector Channel Sales at the company. Prior to joining Red Hat, Byrd spent almost 10 years at Sun Microsystems in federal user and embedded sales.
"I'm thrilled to join the terrific team at RGS, and I'm looking forward to continuing my engagement with the community of partners that are committed to the public sector," Said Byrd. "Rancher Government's true commitment to open source allows partners and customers to fully embrace community solutions as we build problem solving solutions together. These are the roots of open source and they're thriving in the Rancher community."
Byrd joins RGS following a series of wins for the company. RGS was recently chosen by Leidos to join the Leidos Alliance Partner Network which drives innovation through a network for the world's leading technology companies.
Also, in June RGS announced the launch of its highly available and fully supported, no-code deployment of Rancher Kubernetes Engine 2 (RKE2) and Rancher Manager on AWS GovCloud Marketplace, to help Federal customers accelerate their Kubernetes journey in the cloud. This offering is available now for procurement on AWS GovCloud.
The Rancher Manager and RKE2 are the only Kubernetes management platform and distribution on the market with Security Technical Implementation Guides (STIGs) officially published by the Defense Information Systems Agency (DISA).
About Rancher Government Solutions (RGS)
Rancher Government Solutions (RGS) is specifically designed to address the unique security and operational needs of the U.S. Government and military as it relates to application modernization, containers, and Kubernetes.

Rancher is a complete open source software stack for teams adopting containers. It addresses the operational and security challenges of managing multiple Kubernetes clusters at scale, while providing DevOps teams with integrated tools for running containerized workloads.

RGS supports all Rancher products with U.S. based American citizens with the highest security clearances who are currently supporting programs across the Department of Defense, Intelligence Community, and civilian agencies.

To learn more, visit: www.ranchergovernment.com
For Press Inquiries Contact
Don Poole
VP of Corporate Communications,
Rancher Government Solutions
Phone: 914.260.9717
Email: don.poole@rancherfederal.com

Rancher Government Solutions
1900 Reston Metro Plaza Suite 600
Reston, VA 20190
Phone: 844.RGS.7779
Cage Code: 8GLZ3